Get more
customers through

SEO| Adwords| Facebook Ads| Marketing Campaigns
WANT TO GET MORE CUSTOMERS, IMPROVE YOUR SALES, OR POSITION YOUR BRAND
SEO Y SEM
Being visible on the Internet is essential if you want to get ahead of your competition, or get more customers. Thanks to our Digital Marketing team you will no longer have to worry. We grow your online business. We work to guarantee the profitability, benefit and return on investment of your brand or service

SEO A DISCIPLINE THAT POSITIONS
Un trabajo orgánico que perdura en el tiempo
We create strategies
The first step of an SEO campaign is to carry out a strategy, find the right keywords, analyze the competition, and propose the objectives to be achieved.
We optimize your website
Optimize the content of the website or online store with which we are going to work. It is very important since you will have to have a logical relationship with the strategies created.
We build Links
We Build Links The well-known Link Building is most relevant to web positioning. This technique consists of making quality links with other websites.
We perform successful SEM
Each campaign has its strategy
As professionals in Digital Marketing, we manage different platforms such as Google Adwords, Shopping or Facebook Ads, among others, to capture the attention of your target audience and send them your product or services at all times using the following formula:
Segmentation: Segmenting is a must. Age, location, language and as much detail as possible of the target to offer a better experience.
Measurement: We measure the impact according to the number of conversions, it is the most effective way of evaluating the campaign.
Optimization: We check that your website is consistent with what you offer in the campaign and improve the keywords that define your business.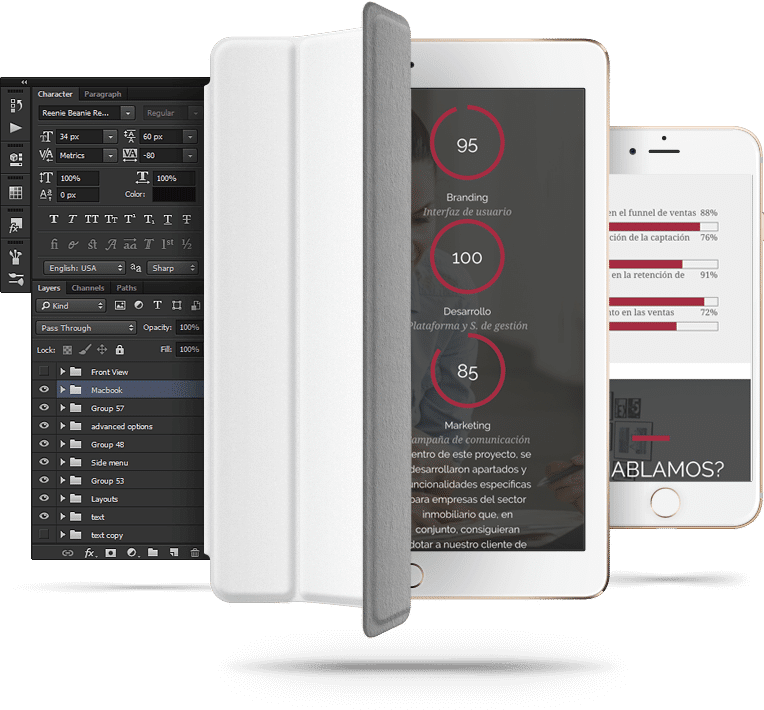 Strategy according to the analysis of the competition, keywords and proposed objectives.
We optimize
We prepare your website
We improve your website by optimizing in depth the keywords and marked strategy.
We link
We create quality links
We work under the quality building link technique ensuring that the SEO work is optimal.
We design
Image according to your brand
We design a suitable image to create a correct perception of your brand.
We develop
Landing pages en tu web
We develop landing pages according to the advertising offered to create more empathy.
We communicate
Values and interests of your brand
The values and interests of your brand in a correct way so that your audience can perceive it.
SOME OF OUR
DIGITAL MARKETING SUCCESS STORIES
All our clients are special and their projects unique, that is why we design and develop personalized strategies based on the needs of each one. Your success is our satisfaction.
LET´S TALK
TELL US ABOUT YOUR PROJECT
Your business in the hands of professionals
YOU HAVE DOUBTS ABOUT SEO
We will tell you everything you need to know about SEO positioning
WHAT STAGE IS YOUR PROJECT IN?
MAYBE YOU ARE INTERESTED TO KNOW MORE ABOUT OUR SERVICES AND HOW WE CAN CONTINUE HELPING YOU.
OPINIONS OF
OUR CLIENTS

Desde Marley Properties Marbella queremos recomendar a SEB Creativos a todas las empresas que necesitan una agencia que proporciona presencia destacada online. Nos han hecho un gran trabajo con la página web, nuestra imagen corporativa, branding y mucho más. Nos atienden siempre muy bien y son verdaderos profesionales en lo que hacen, por lo que estamos muy contentos con ellos.
Michael Johansson
Estupendos profesionales, crearon desde principio a fin nuestra imagen corporativa, web y marketing online de la empresa. Y el resultados ha sido mejor de lo esperado. Muchas gracias equipo !!!
Lili Radu
CEO - Marbella Wedding
Estos chicos son increíbles ,me diseñaron la pagina con un diseño espectacular y la posicionaron rapidísimo, tienen precios muy competitivos ,no duden en contactarlos !!!!!
Adrián Bilous
Director - Abysub Diving
Un proyecto que comenzó como una idea, ellos nos aportaron su conocimiento y experiencia para hacerla realidad. Muchísimas gracias, totalmente aconsejable para desarrollar lo que tenéis en mente. ¡Todo se puede hacer, me dijo Fernando, CEO de Seb Creativos!
Noelia Diaz
Comunicación - Museo automovilístico de Málaga