Creator Studio for Facebook and Instagram – What is it and how to use it?
The power of Facebook and Instagram to develop marketing campaigns continues to grow with its "Creator Studio" tool, designed to help companies that use their platforms. That is, with Creator Studio you can manage all Facebook and Instagram posts from one place, making marketing on these social networks much easier.
What is Creator Studio? How to program with Creator Studio? What are the benefits of using Facebook's Creator Studio tool? If you consider yourself a good digital trafficker you are obliged to know this tool in depth.
Below, we will answer all your questions so that you can learn how to optimize the processes of publishing, managing, monetizing and measuring the content of your advertising campaigns.
What is Creator Studio?
Creator Studio is a social media content management tool related to Facebook.  The Creator Studio tool helps creatives and publishers to optimize advertising campaigns by facilitating the tasks of publishing, scheduling, analyzing performance, connecting with audiences and monetizing content on their Facebook and Instagram accounts.
With Creator Studio you don't need another tool, it is a complete interface, easy to use and you can access it from your desktop browser. In other words, it makes your life easier because you can use your keyboard and mouse. Here is a video explaining how with Creator Studio, you have everything in one place.
Is it possible to use Facebook Creator Studio for Instagram?
Yes, and what's more, it's very simple. With Facebook Creator Studio, you can manage your Instagram posts, carousel posts and videos as it offers several creative tools.
With a few clicks, you will know the performance of each post, audience statistics, subscriptions and communicate with your followers.
How to schedule posts on Facebook with Creator Studio?
Although scheduling with Creator Studio on Facebook is a simple task because Facebook explains step by step what to do, some activities are not so obvious.
To create posts, you first press the "Create post" button at the top left of Creator Studio.
You will see several options: create post, add story, upload video, upload multiple videos, live stream or publish video to multiple pages.
When you click on "Create Post", it opens in a right sidebar with the various publishing options.
The scheduler is a bit more complicated. You'll see a drop-down menu on the right, next to the "Share Now" button and by clicking the drop-down button, you can choose to schedule by date or save draft.
To the left of that drop-down menu, you have several options. With the "Audience" button you can target your audience inside or outside Facebook (general audience, restricted audience, audience with specific interests or the most interacting followers).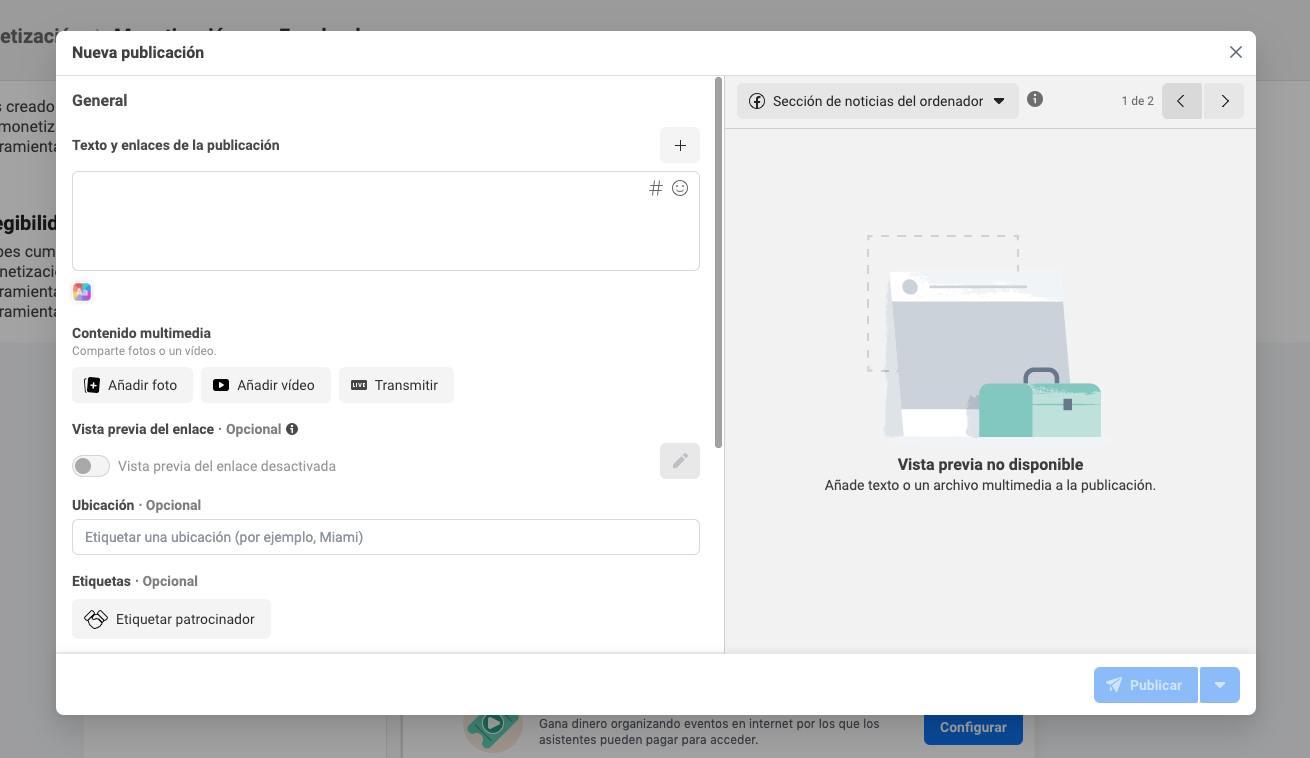 How to schedule posts on Instagram with Creator Studio?
Go to facebook.com/creatorstudio from your desktop and you'll see the pages you have access to. If you haven't already done so, link your Instagram accounts to Creator Studio.
Depending on the relationship between your Facebook pages and your Instagram accounts, proceed as follows:

If you manage a Facebook page that is already connected to your Instagram account, you click to connect.
On the other hand, if you do not yet manage a Facebook page connected to an Instagram account, click on "connect to Instagram" and follow the step-by-step instructions.
If you want to access a different account that you do not see in the list, click on "connect another Instagram account" and follow the instructions.
Now, if you have multiple Instagram accounts connected, click on "continue with connected accounts".

To create content, click on the Instagram icon at the top of the page and you will see that you arrive at your Content Library.
Click the "create post" button at the top left of the page and select the type of post (Feed or IGTV).
If you are going to post to feed, select "Instagram Feed" and you will see that a window on the right where you can upload the image(s), crop, write its title, add location, tag other accounts. In "advanced options" you can disable comments and add alternative text. Then click on the arrow next to the publish button to schedule the date and time of publication.
Similar to the one explained in the previous point, you can post IGTVs up to 60 minutes long, add title, captions and links. Also, you can upload a cover image, share a preview of the Instagram or Facebook feed.

Benefits and features of Facebook Creator Studio
Creator Studio is free
Although there are some requirements, the platform is completely free to use.
Manage everything from one place
You can see and manage all your properties (Facebook, Instagram, Messenger and soon WhatsApp) in the inbox of your Facebook page. In other words, Facebook wants to make it so that if a customer sends you a message via WhatsApp, you can reply via Messenger.
Manage multiple pages
Creator Studio allows you to keep track of information from all your Facebook pages and Instagram feed. You will be able to create multiple pages by clicking on the "group of pages" option and then "create collections".
Automated replies
It is quite efficient to schedule answers automatically for simple questions frequently asked by users.
User tracking
Within the messaging interface, by clicking on the magnifying glass, you find users and tags on Facebook, Messenger and Instagram platforms. You can access a user's profile and add confidential notes, track appointments, orders and payments.
Video content features in Creator Studio
Facebook prefers videos and Creator Studio offers several alternatives to monetize with ads. You can schedule and upload multiple videos at the same time and use those videos in posts and stories on both Facebook and Instagram. Creator Studio allows you to create episodic video series, choose clips from a video to turn them into shorter videos, manage your playlist with their own URLs for sharing, bulk upload videos and place your video catalog on your page. Also, you can cross-post IGTV videos to Facebook.
Role management
With Creator Studio, you can delimit the role of each member of your marketing team, i.e. delimit the activities they can do on both Facebook pages and Instagram accounts (administrator, editor, moderator, advertiser and analyst).
Schedule massive publications
Schedule the date and time of each post and reschedule as needed.
Brand Partnership Manager
The Brand Partnership Manager is a tool that helps your business get discovered by companies that offer paid partnerships, thus increasing your chances of increasing your revenue on Facebook. Also, you can connect with other brands and collaborate with them.
Analytics with Creator Studio
You will get statistical information of the videos and stories published (performance, minutes viewed, engagement and followers). Also, with the "loyalty" metric, you will know the percentage of your audience that returns to watch your videos. Regarding the audience, Creator Studio tells you its characteristics by age, location, interests, among others. Other very important metrics are "earnings" and "monetization", with which you can know, among other aspects, how much money your campaigns are generating. However, some of this information will not be visible until you have reached a certain level of audience.
Creator Studio Content Library
Excellent panoramic view where you can see all your content (published and scheduled), in one place including valuable information on each publication.
Monetization
Facebook Creator Studio offers good tools for monetizing your posts as well as the ability to track your earnings and manage payment settings. It includes Instant Articles, fan subscriptions, paid online events, ad breaks, brand collaboration and community partner payments. In order to use them, you must meet certain eligibility criteria.
Community management in the inbox
Your workload is lessened as messages, comments and other aspects of audience engagement from both Facebook and Instagram are gathered in one place. You can use the dashboard to reply and mark conversations as "finished" or "unread".
Free music to optimize your publications
With the "Sound Collection" feature offered by Creator Studio, you have access to several free and completely legal music and sound effect options with which you can optimize your publications.
Plagiarism control with the rights manager
The rights manager analyzes the content you place in the library and will send you a warning if it finds a post on Facebook or Instagram that matches yours. You can then monitor it, block it or attribute it to yourself via an ownership link.
Conclusion
Facebook's Creator Studio tool is ideal to help you generate more online sales on both Facebook and Instagram as it offers the resources to optimize and manage content, analyze its impact, schedule posts and monetize efficiently.
However, if your business launches advertising campaigns on other platforms in addition to Facebook and Instagram, you may prefer to use an advanced external tool that allows you to manage them all.