We are specialists
in the development of

Applications| plugins| custom portals
FOR THOSE WHO WANT TO MAKE A DIFFERENCE BY OFFERING NEW BUSINESS EXPERIENCES
Web applications development
Native and self-management APPs
We develop your ideas and make them come true. We are benchmarks in the programming and development of web applications. We have extensive knowledge in different programming languages, databases, libraries, Back end and Front end development.

Custom developments
We perfectly master custom development in wordpres and other platforms
WordPress plugins
(Specific and tailored for each web page or portal). When it comes time to program, nothing better than to dump our knowledge creating WordPress plugins for specific tasks in which it is not possible to access plugins that already exist on the market. You can also choose from our list of available plugins.
Real Estate Portal
(Your clients will see thousands of properties on your website). We link the main real estate portals such as Resales Online, Idealista, etc. with your own website. Your clients will be able to access the information of thousands of properties on your own portal efficiently and become potential buyers. You will increase the flow of leads on your portal.
Ergonomía (UX/UI)
(Your online orders direct to the POS). If you have a POS in your physical store and also want an online store, it is best to centralize and receive all orders through the same channel, thus improving the productivity and efficiency of your business. By automating your sales process you will reduce costs and optimize production time on orders.
Web applications
Access your tools where and when you want, without limits
A web application knows no limits, it can fulfill all the functions you need and use it wherever you want, from any device and operating system, since all you need is a web browser and internet connection.
This opens up endless possibilities, it is just a matter of giving free rein to your imagination. We will provide you with the support and resources you need, such as developers, graphic designers, or Marketing specialists.
You tell us the idea and we will make it happen.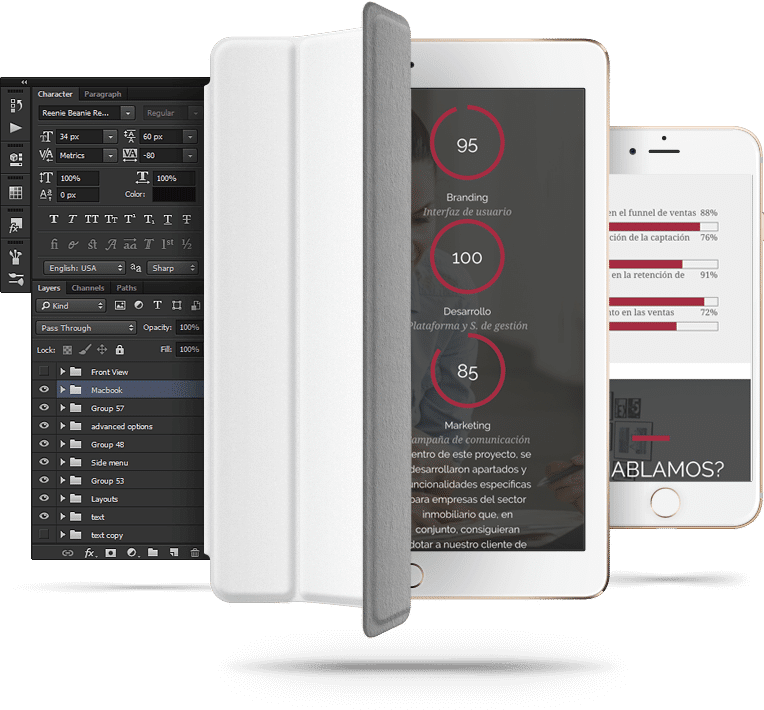 Push notifications
Generate more conversions
Send personalized messages to all your clients, to a group of them or to a personalized sector.
Geolocation
Keep your clients located
Locate your clients showing information, advertising and offers according to their geographical location.
Social networks
Integration of social networkss
Connect and centralize all your social networks with your mobile application with a simple click.
Physical location
Let them know your location
Let your customers know where your points of sale are and how to reach them through Google Maps.
Loyalty
Create offers for your clients
Create attractive offers or manage a loyalty program with points cards incentivizing your customers.
Integration
Connect with your online store
Get more out of the online stores you already have by integrating them with the application
SOME OF OUR
FEATURED CUSTOM DEVELOPMENT PROJECTS
All our web design clients in Malaga are special and their projects are unique, that is why we design and develop personalized strategies based on the needs of each one. Your success is our satisfaction.
LET´S TALK
TELL US YOUR PROJECT
Your visibility in the hands of professionals
DO YOU HAVE DOUBT ABOUT APPLICATIONS
WHAT SHOULD I KNOW ABOUT DEVELOPING APPLICATIONS IN SEB CREATIVOS
WHAT STAGE IS YOUR PROJECT IN?
YOU MAY BE INTERESTED TO KNOW MORE ABOUT OUR SERVICES.
OPINIONS OF
OUR CLIENTS

Desde Marley Properties Marbella queremos recomendar a SEB Creativos a todas las empresas que necesitan una agencia que proporciona presencia destacada online. Nos han hecho un gran trabajo con la página web, nuestra imagen corporativa, branding y mucho más. Nos atienden siempre muy bien y son verdaderos profesionales en lo que hacen, por lo que estamos muy contentos con ellos.
Michael Johansson
Estupendos profesionales, crearon desde principio a fin nuestra imagen corporativa, web y marketing online de la empresa. Y el resultados ha sido mejor de lo esperado. Muchas gracias equipo !!!
Lili Radu
CEO - Marbella Wedding
Estos chicos son increíbles ,me diseñaron la pagina con un diseño espectacular y la posicionaron rapidísimo, tienen precios muy competitivos ,no duden en contactarlos !!!!!
Adrián Bilous
Director - Abysub Diving
Un proyecto que comenzó como una idea, ellos nos aportaron su conocimiento y experiencia para hacerla realidad. Muchísimas gracias, totalmente aconsejable para desarrollar lo que tenéis en mente. ¡Todo se puede hacer, me dijo Fernando, CEO de Seb Creativos!
Noelia Diaz
Comunicación - Museo automovilístico de Málaga