The image is not just what you see
it is what

Transmit| Communicate| Represent
FOR THOSE WHO WANT TO MAKE A DIFFERENCE BY OFFERING NEW BUSINESS EXPERIENCES
Corporate image
The first impression is what counts
The corporate image is the letter of presentation of your company or business with potential clients, employees or investors, it is very important to take care of every detail, following a design line in each and every one of your brand's applications in the different supports or media .
A careful and well applied image will be the one that differs from the rest, which will last over time and will be recognized by all those who have seen it.

Branding and Brand Positioning
We build brands differentiating them with various strategies based on the environment that relate it directly or indirectly to its consumers, influencing the perception and value of it.
Corporate image
We design entire corporate lines, starting from the logo to the email signature, going through business cards, flyers, catalogs, dossiers, banners, posters and much more.
Ergonomics (UX / UI)
We study the adaptation conditions and work to improve them, we carry out User testing, conversion tracking, usability, heatmaps, designs and development interface and A / B tests.
Corporate image
A successful image for your business.
Remember the importance of your presence, since it influences the perception of your potential customers. Conveys confidence and reflects the right personality. Do not limit yourself to a visual character, it covers a much broader scope, where cultural, environmental and social behavior factors influence. Take the step and differentiate yourself from the thousands of companies that offer the same as you.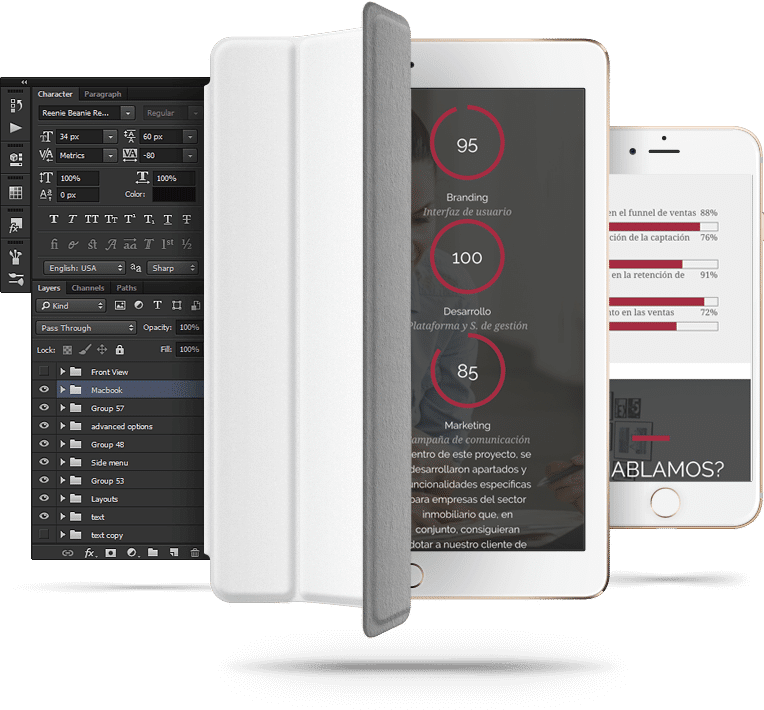 Corporate
create your brand
Logos, Business cards, Letter paper, Folders, Dossier, Packaging.
Advertising
Make yourself known
Flyers, Posters, Brochures, Banners, Catalogs.
Labels, Roll up, Tarps, Magazines, Catalogs, Textiles, Banners.
Quality corporate videos for companies that need to make themselves known.
Sell and communicate with the most professional photographs you can bring to your business.
Advertising music
onle music
Musical corporate identity: Jingles, advertising music, radio symphonies, applications, etc.
SOME OF OUR
HIGHLIGHTED CORPORATE IMAGE PROJECTS
All our clients are special and their projects unique, that is why we design and develop personalized strategies based on the needs of each one. Your success is our satisfaction.
LET´S TALK!
TELL US ABOUT YOUR PROJECT
Your business in the hands of professionals
FAQ
WHAT SHOULD I KNOW ABOUT BRANDING
WHAT STAGE IS YOUR PROJECT IN?
YOU MAY BE INTERESTED TO KNOW MORE ABOUT OUR SERVICES.
OPINIONS OF
OUR CLIENTS

Desde Marley Properties Marbella queremos recomendar a SEB Creativos a todas las empresas que necesitan una agencia que proporciona presencia destacada online. Nos han hecho un gran trabajo con la página web, nuestra imagen corporativa, branding y mucho más. Nos atienden siempre muy bien y son verdaderos profesionales en lo que hacen, por lo que estamos muy contentos con ellos.
Michael Johansson
Estupendos profesionales, crearon desde principio a fin nuestra imagen corporativa, web y marketing online de la empresa. Y el resultados ha sido mejor de lo esperado. Muchas gracias equipo !!!
Lili Radu
CEO - Marbella Wedding
Estos chicos son increíbles ,me diseñaron la pagina con un diseño espectacular y la posicionaron rapidísimo, tienen precios muy competitivos ,no duden en contactarlos !!!!!
Adrián Bilous
Director - Abysub Diving
Un proyecto que comenzó como una idea, ellos nos aportaron su conocimiento y experiencia para hacerla realidad. Muchísimas gracias, totalmente aconsejable para desarrollar lo que tenéis en mente. ¡Todo se puede hacer, me dijo Fernando, CEO de Seb Creativos!
Noelia Diaz
Comunicación - Museo automovilístico de Málaga