Web design
in Madrid for

professionals| Startup| Companies
FOR COMPANIES THAT WANT TO MAKE A DIFFERENCE WITH AN EXCLUSIVE WEBSITE
Professional web design in Madrid
We develop real online businesses
Web design in Madrid is our specialty, we have developed more than 200 custom web design projects programmed from scratch or in different content managers such as wordpress, prestashop or Magento.
We are a web design agency, which has its own Digital Marketing team and graphic designers, to design your corporate image and to make your business take off after launch.
What we will contribute to your project
More than 7 years designing web pages in Madrid
Web Design and Online Stores
Web design and online stores are our specialty. We carry out projects personalized and adapted to each business. Responsive platforms, easy navigation and intuitive management.
Development
We develop projects until they become reality. Creation of applications web and mobile. We work in various databases and programming languages, back end and front end.
Ergonomics (UX / UI)
We study the adaptation conditions and work to improve them, we carry out User testing, conversion tracking, usability, heatmaps, designs and development interface and A / B tests.
Web Design Agency in Madrid
Web Design Agency in Madrid
We develop your business or Startup from scratch, starting with the design of your Logo or corporate image going through the design of your website, store or portal and ending in online marketing strategy.
We have professionals with more than 15 years of experience in their sector to provide you with all kinds of solutions, from the creation of your website, to 100% advanced and personalized project development.
Webs adapted to all types of devices, exclusive designs focused on attracting customers, easy management and intuitive navigation.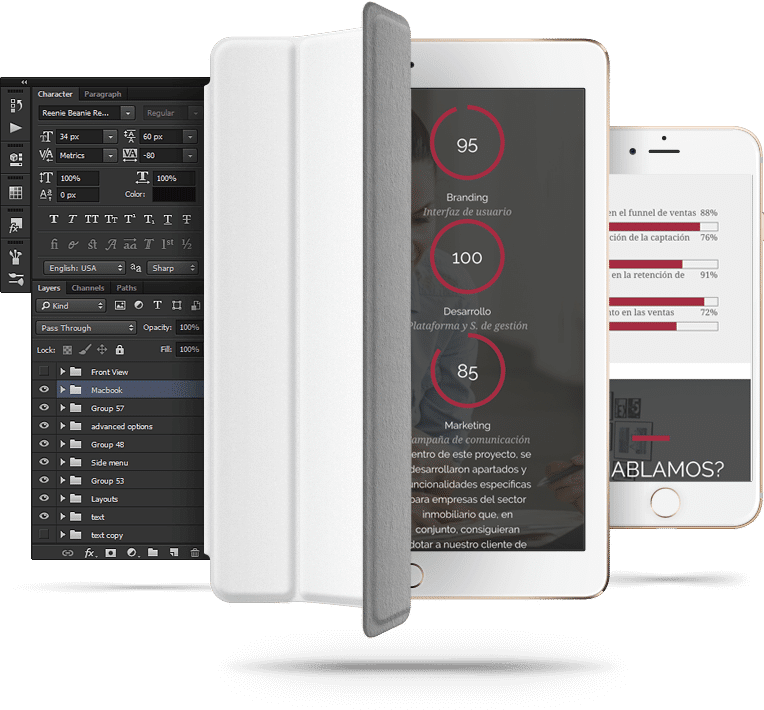 Exclusive features
A remarkable style to distinguish
When we talk about exclusive features, we talk about the perfect combination between design, functionality and development.
Multi - languages
A place to connect with world
The advantage of working on the internet is that the same online business can communicate in several languages, targeting various countries.
Responsive designs
Adapt to all devices.
More and more people are browsing on mobile devices, which is why having a site is so important website that can be adapted to any device.
Easy drive
Intuitive content editing
We provide an extremely simple control panel that will allow you to manage your website practical and easy way.
SOME OF OUR
HIGHLIGHTED MADRID WEB DESIGN PROJECTS
All our web design clients in Madrid are special and their projects are unique, that is why we design and develop personalized strategies based on the needs of each one. Your success is our satisfaction.
LET´S TALK!
TELL US ABOUT YOUR PROJECT
Your business in the hands of professionals
FAQ
WHAT SHOULD I KNOW ABOUT WEB DESIGN IN SEB CREATIVOS
WHAT STAGE IS YOUR PROJECT IN?
YOU MAY BE INTERESTED TO KNOW MORE ABOUT OUR SERVICES.
OPINIONS OF
OUR CLIENTS

Desde Marley Properties Marbella queremos recomendar a SEB Creativos a todas las empresas que necesitan una agencia que proporciona presencia destacada online. Nos han hecho un gran trabajo con la página web, nuestra imagen corporativa, branding y mucho más. Nos atienden siempre muy bien y son verdaderos profesionales en lo que hacen, por lo que estamos muy contentos con ellos.
Michael Johansson
Estupendos profesionales, crearon desde principio a fin nuestra imagen corporativa, web y marketing online de la empresa. Y el resultados ha sido mejor de lo esperado. Muchas gracias equipo !!!
Lili Radu
CEO - Marbella Wedding
Estos chicos son increíbles ,me diseñaron la pagina con un diseño espectacular y la posicionaron rapidísimo, tienen precios muy competitivos ,no duden en contactarlos !!!!!
Adrián Bilous
Director - Abysub Diving
Un proyecto que comenzó como una idea, ellos nos aportaron su conocimiento y experiencia para hacerla realidad. Muchísimas gracias, totalmente aconsejable para desarrollar lo que tenéis en mente. ¡Todo se puede hacer, me dijo Fernando, CEO de Seb Creativos!
Noelia Diaz
Comunicación - Museo automovilístico de Málaga